PILATEN Collagen Nourishing Lip Mask
Rich in collagen, the Mask penetrates into the skin's interstitial fluid, and makes the lip muscle plump, more elastic and full of vitality. The ingredients go deep into the skin's texture and give the lips a boost of energy. It also helps with diluting lip lines, smoothing and firming skin.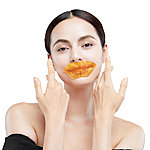 Ingredients


GLYCERIN, BUTYLENE GLYCOL, SORBITOL, CHONDRUS CRISPUS, POWDER, TREHALOSE, PROPYLENE GLYCOL, BETA-GLUCAN, XANTHAN GUM, ALOE BARBADENSIS, LEAF JUICE POWDER, COLLAGEN, SERICIN, POLYSORBATE 20, 1,2-HEXANEDIOL, HYDROXYACETOPHENO, NE, MICA, TITANIUM DIOXIDE, IRON OXIDES, GOLD, PEG-40 HYDROGENATED, CASTOR OIL, ROSA RUGOSA, FLOWER, OIL
How to use:
Clean your face and lips, with warm water.
Take out the lip mask and paste on yor lips.
Tear off the lip mask after 10-15 minutes.
Use fingers to massage gently your lips to help absorb the remaining essence.