PILATEN Crystal Collagen Eye Mask

Rich in collagen and multiple plant extracts, the ingredients can be assimilated easily by the skin. This product can dilute the eye pouch and wrinkles. It also smooths and firms up the eye skin.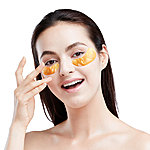 Ingredients
WATER, GLYCERIN, PROPYLENE GLYCOL, CHONDRUS CRISPUS POWDER, TREHALOSE, NIACINAMIDE, HYDROXYETHYLCELLULOSE, ALOE BARBADENSIS, LEAF JUICE POWDER, COLLAGEN, SERICIN, POLYSORBATE 20, 1,2-HEXANEDIOL, HYDROXYACETOPHENONE, MICA, TITANIUM DIOXIDE, IRON OXIDES, GOLD, PEG-40 HYDROGENATED, CASTOR OIL, ROSA RUGOSA FLOWER, OIL
How to use:
Clean your face with warm water.

Apply the Eye Mask to lower eyelid.

Remove the Eye Mask after 15-30 minutes.

Massage with fingertip until fully absorption.
For the first time, we recommend that you take a 30-day course, which gives a large amount of collagen to the eyes, heals eye skin and makes skin more elastic. After 30 days, the eye surroundings are completely recovered.

After 30-day course we recommend that you use the mask at least once a week in order to maintain skin elasticity.
30-day course contains 16 (pcs) eye mask.

The 30-day course needs to pass through like:


1. Week - Use the mask for 7 days on the shore, every day of the week.

Week 2-4 - Use mask 3 times a week.